Mobile
5 Stealthy Ways to Read Someones WhatsApp without Their Phone
WhatsApp is getting popular day by day due to its useful features. Either you want to share pictures, videos, files, or just exchange messages, WhatsApp is the first name when it comes to data security. It is the only messaging app that got a million downloads in no time. 
You might get suspicious when your loved ones get extra possessive about their mobile phone. But how you would easy this anxiety? Reading their messages when they are not around? This might work but you will be in huge trouble when they would catch you red-handed one day.
What other options do you have to hack their mobile phone without having it in your hand? As you are not a seasoned hacker, there is a probability of getting into a problem when you don't apply the hacking techniques properly. Don't worry, we have a convenient solution for you
How to Remotely Spy on WhatsApp? 
 Keeping your relationship safe and spying on your loved ones is not easy to handle at the same time. If they ever find your while monitoring their activities, you won't be trusted anymore. Therefore, you should use a spy app that would keep your spying activities completely secret.
Phone spy applications are developed to spy on anyone's WhatsApp without having their mobile phone in your hands. However, all spy apps do not work as they are supposed to do. Read this article to find out reliable spy applications for reading anyone's messages secretly.
Minspy, an Advanced Spying Application
Minspy is a trustworthy, secure, and efficient digital surveillance app available at Minspy.com. Minspy is a feature-packed private solution that does the spying job perfectly. It is reliable to use when reading anyone's messages as it would never reveal your identity.
Minspy works as it advertises. The effectiveness of Minspy is recognized by multiple media forums such as PC World, Android Authority, TechRadar, Toms Guide, Digital trends, and iGeeksBlog. The cutting-edge technology of Minspy has made it popular in a short time.
The user-interface of Minspy is designed by top-notch developers. If you don't have any technical knowledge, you can still use it without referencing lengthy user manuals. Minspy requires 2MB storage space and runs smoothly without terminating other processes.
How to Spy on WhatsApp stealthily
Minspy is the ultimate solution to read someone's WhatsApp without their phone. The stealth technology of Minspy helps it to work silently in the background without issuing any pop-ups. The target users could never trace Minspy installed on their systems. 
To know how to start using Minspy for reading anyone's WhatsApp messages remotely, follow this 2-minute procedure.
Step 1: Login/Signup 
Just like other off-the-shelf programs, creating your Minspy account is a must before starting it to use for spying. Enter a valid email address and complex password so that no one can crack it.
Step 2: Select Target Device Type
After signing up to your Minspy account, next you will be asked to specify the device type you want to hack. We prefer hacking the target device as it simplifies the process of reading their WhatsApp conversations without knowing their passcodes. 
Minspy for Android smartphones
If you want to track anyone's WhatsApp account who uses an Android mobile phone, you will have to get their phone in your hands. Just because of the smart design of the android device, you need to install Minspy by physically touching their mobile phones at least once.
After finishing the installation, Minspy disappears from the app drawer. It is an ultra-light spy app that remains hidden from the app drawer as well as the installed applications' list. Minspy doesn't drain the battery of the target mobile phone thus goes unnoticed. 
Minspy for iPhones and iPods
Hacking WhatsApp being used on an iOS-based device is simpler, easier, and entirely remote with Minspy. iPhones come up with iCloud connectivity as the data gets encrypted and saved to the server. Minspy uses this built-in feature of iPhones for remote installation.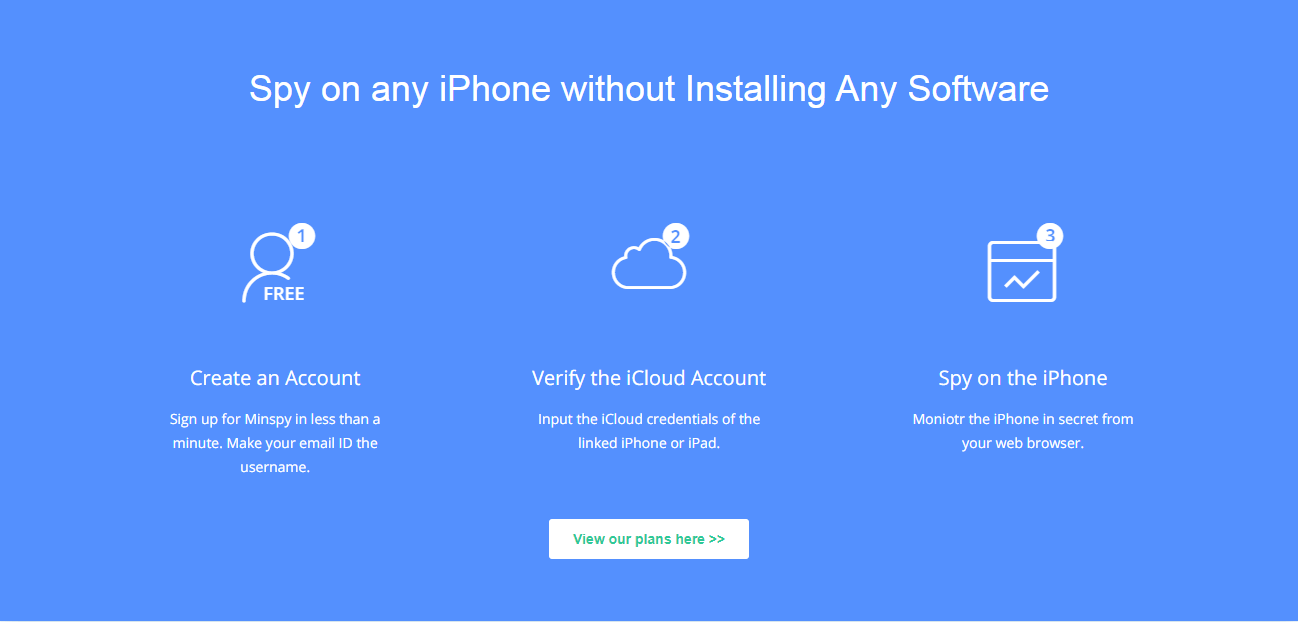 Get the iCloud login id and password of the target person to install Minspy without touching the target mobile phone. Minspy is a root-free solution so you don't have to jailbreak the device to hack it. Data saved on the target iPhone could be tracked remotely with Minspy.
Step 3: Finish Installation and Start Spying
Close the setup wizard by clicking the Finish button. After the successful installation of Minspy, you can view their WhatsApp messages without touching their device now and then. The remote spying feature of Minspy lets you track anyone's device distantly and discretely.
Minspy dashboard does not only track WhatsApp messages and calls, but it also records multimedia files shared by the target device. Just click any tab at your Minspy dashboard and it would barely take a minute to display the relevant information. You can use any web browser to log in to your Minspy account.
If you are looking for a reliable spy app to read anyone's WhatsApp conversations stealthily, Spyier should be in your to-do list. Spyier comes up with the convenience of monitoring iOS as well as Android mobile phones without jailbreaking the target device.
You don't need to be a proficient programmer to hack anyone's WhatsApp. Spyier is a user-friendly application offering economical packages for spying over anyone's WhatsApp remotely. You can use Spyier even if you are not familiar with hacking techniques.
Spyic was introduced a few years ago with all its useful utilities. In a few times, it has been ranked as the best spying application in the market. Used over more than 190 countries by millions of users, Spyine is famous for its stealth mode and multiple hacking solutions.
You can remotely read anyone's WhatsApp messages with Spyine rather than hiring a spy agent to keep an eye on your loved ones. Spyine is a bug-free spying application that offers all kinds of social media monitoring in a single click.
Spyine is another top-rated application in the market of spying applications. Bearing millions of subscribers, Spyic has made hacking anyone's WhatsApp a child's play. You don't have to remember long lines of code to read WhatsApp messages remotely.
Spyic offers remote monitoring services at reasonable rates. Just register your Spyic account and read anyone's WhatsApp conversations. The target person will never find you monitoring over them as Spyic works in stealth mode and fetches the data remotely.
Cocospy is a convenient yet easy-to-use application when it comes to spying over WhatsApp. With its fully-functional services, you can monitor everything saved on the target device without physically touching it. Neatspy offers geofence alerts, social media tracking, and much more.
Cocospy does not interrupt other processes and keeps running secretly in the background. When installed, it hides from the target device so that the user can't get any clue of being monitored. You can preview their older conversation even if they have deleted the messages.
Conclusion
Finally, you search for dependable spy apps end here. You can pick any of these spying applications and stealthily read WhatsApp conversations without any distress of being caught. Minspy and the other listed apps are trustworthy to use and available at reasonable rates.