Internet
Best Shared WordPress Web Hosting Providers for Beginners
Shared Hosting is a well-known term for the newbie bloggers community. But often people get muddled while choosing a shared WordPress hosting service as there are tons of hosting services available out there claiming that they are the best. So, if you are one of these people who are confused about selecting 'the perfect' WordPress hosting service for your blog, then here's a compilation of the best shared web hosting services which are perfect for beginners. But before getting into the list, you should know what shared hosting is and what factors should be considered while selecting a shared web hosting service.
As the name suggests, shared hosting is a service where the server resources will be shared by many other website owners. it is idle for beginners as its cost effective, and the resources are capable enough for handling low to mid range traffic a website gets in the in the initial days. This will help the newbie bloggers to get going with a low investment.
It is also essential for beginner bloggers to look into other aspects as well apart from cost which is obvious, such as bandwidth, storage, security, and last but not the least, quality customer support. I have tried most of the shared web hosting services on the internet and trimmed down the list by 5 best shared web hosting 2020. without further ado, let's check out the list.
1. Bluehost
Blue Host is undoubtedly one of the top shared web hosting services with more than 14 years of experience in this field. It's an official WordPress hosting partner that provides the best-optimized servers for the websites. Also, it provides a user-friendly cPanel that can be easily managed by users, for instance, a one-click WordPress installer.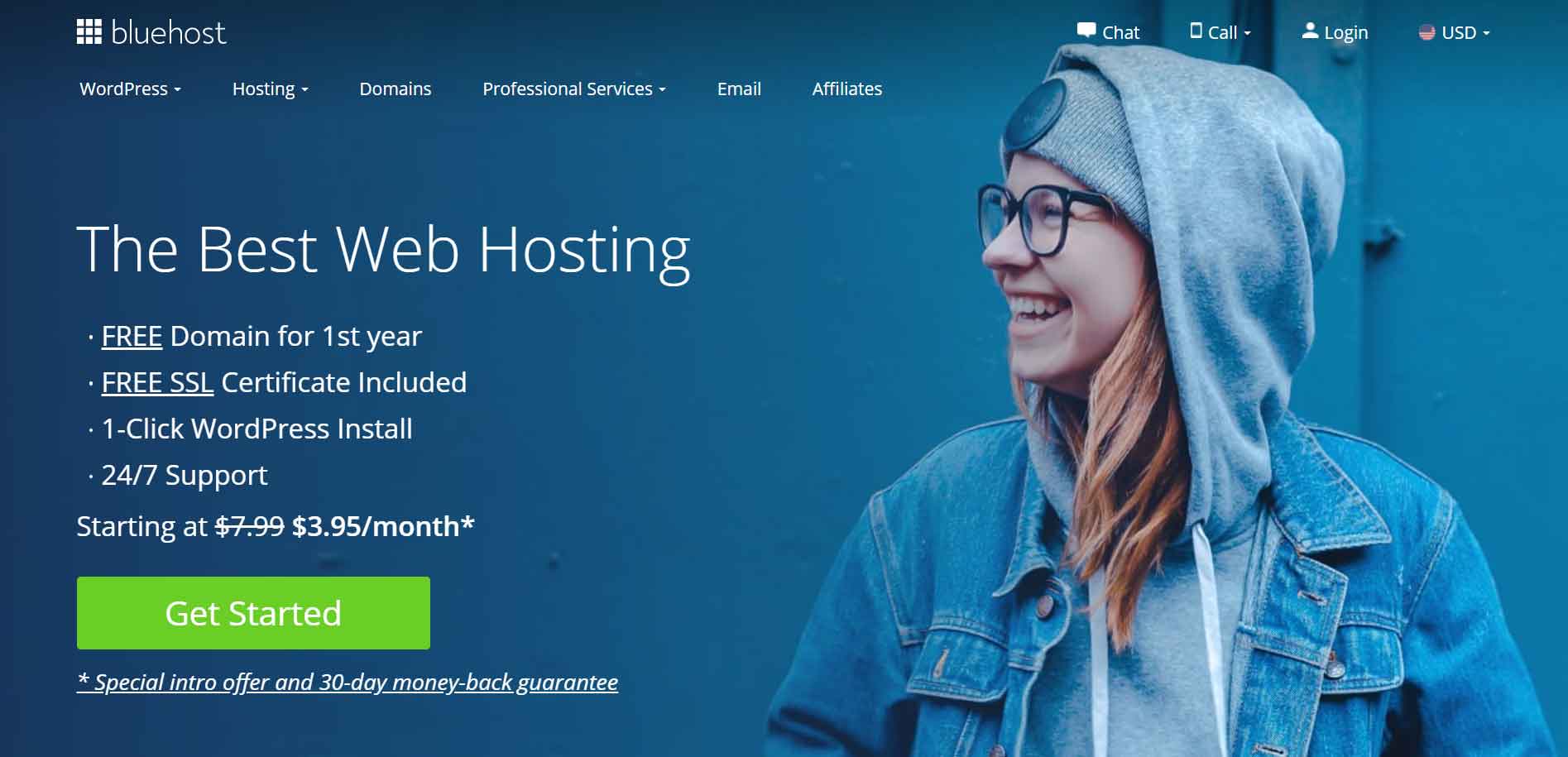 It offers three different packages to choose from, with the price starting from $7.99 (current price starts from $3.95). Coming to the features and resources, Bluehost offers a free SSL certificate, Unlimited bandwidth, Unlimited SSD Storage, free domain, FTP access, and more depending on the selection of the package.
It even provides a 24/7 live chat, phone, and email support for users in case of an emergency or troubleshooting issues.
2. Siteground
Siteground is yet another popular WordPress hosting provider recommended by WordPress. Newbie bloggers can easily opt for this shared web hosting service without further thought as it is easy to manage and you will get the latest caching technology which helps your site load faster.
Users have three different packages to choose from according to their needs from the shared hosting plans with prices starting from $9.95 (After the discount, $3.95/month). They offer unmetered traffic, Free SSL, Free Email, Free WordPress Installation, cPanel, and SSH access, daily backup along with 24/7 customer support ( very quick ).
3. DreamHost
DreamHost is the oldest hosting service provider in the industry which was founded in 1997. With almost two decades of experience in the market, they still manage to be one of the best in the market providing all the top-notch features for the users such as unlimited bandwidth, storage, one-click WordPress installation, free domain, 24/7 expert support, and many more.
What I really like about DreamHost is that you will not find any hidden prices like most of the hosting providers. You will get only what they are advertised for. Shared WordPress hosting starts at as low as $2.59/month.
4. A2Hosting
A2Hosting is another best WordPress hosting provider in the market at very competitive prices. A2Hosting shared web hosting prices start from $2.99/month that allows you to host 1 website with 100GB SSD Storage. The package includes all the key features including a Free SSL certificate, Free CDN, Unlimited Email accounts, Easy to use CPanel, FTP Access, and much more.
The offers are extremely beginner friendly and you can easily scale up your resources when you are getting more visits for your website.
5. Hostgator
Hostgator is another popular web hosting company with a tag as the largest hosting provider in the world. You can get a cheap shared web hosting for as low as $2.75/month. You won't be burning so much money to set up your hosting account.
Hostgator plans offer unlimited bandwidth, disk space, databases, email addresses, free domain, one-click WordPress installer, access to latest cPanel and more features which are more than enough to handle the traffic for a new blog. The platform is extremely easy to use even for a person without much technical knowledge.
These are some of the Best Shared WordPress Hosting Providers we tried and found useful. If you find any other best hosing services that are overlooked here, please share them in the comment section below.
We are sorry that this post was not useful for you!
Let us improve this post!
Tell us how we can improve this post?