Do you follow sports? Want to watch live sports online? Due to hectic work and various other reasons we don't get a chance every time to relax and watch live sports on television. plus some of our favorite sports don't even have the highlights too. So, in this quick post, I will share some of the best sports streaming sites with you so that you can watch live sports online wherever you are.
It's obvious that we need a good internet connection to stream live matches. However, as the internet became available to everyone at cheaper rates, it is now very affordable to stream your favorite sports right from your PC, Mobile or Tablet.
As I said, these sites are great to watch free live sports such as Football, Rugby, Cricket, Hockey, tennis, and basketball. But you can also stream many other sports such as baseball, golf, horse racing etc.
Note: You may not be able to access some of the sites below due to country/ISP restriction. But don't worry. If you get any such error, please use a proxy site or VPN (like Zenmate) to hide your location. This way you can stream the particular sports match without any problem.
Now let's look at each of the sports streaming sites below and find out various details like whether they are mobile-friendly, HD, offer updates, Strength, Pros, and cons.
List of Best Sports Streaming Sites 2017(Free)­­­­
Batmanstream.net

With over 15M users a month, batmanstream is one of the best sports streaming sites to watch live sports on the internet. Users flock here to watch live football, NFL, rugby streams. Users will enjoy the Live Chat box (opens as a pop up) where heated debates will take place about the ongoing series or league.
Batman Stream allows you to watch live Football, NFL, Basketball, Baseball, Handball, Hockey, Motorsport, Rugby, Tennis, Volleyball and other sports.
Pros:
Always online with 95% uptime even during the biggest sports event.
75% of visitors come back to watch live sports streaming online for free using this site. Frequently watched sports are Hockey, Soccer (Football), and Basketball.
Plenty of streaming links to choose from with update every 15 minutes.
You can search for live events using the search box, ex: League 1, FA Cup, Copa Brasil, Silkeborg etc.
Cons:
Some of the mirror links are restricted on the site.
First Row Sports
First Row Sports is yet another awesome sports streaming site on the internet. It provides a lot of High-quality streams for Football, Basketball, Rugby, Ice Hockey, Olympics, Boxing (WWF, UFC), Tennis, and Motorsport. However, you can also get links for other sports such as Darts, Golf, Snooker, Baseball, Handball etc.
The site allows you to refresh links every now and then to get the updated streams and menu information. There is website clock that you can set to your timing zone to see what are the matches available at the moment.
When you click on a specific sport on the menu it will display all the available streams to the different matches of that particular sport. Along with HQ streams, the site also has a Live score section where you can see the quick summary of the ongoing match.
Pros:
A lot of High Quality sports streams
There is a TV section where you can see tv Box Live for free
Simple and User-friendly navigation
First Row Sports is Mobile Friendly
Cons:
Some pop-up ads will frustrate the user.
You need to Sign up in order to stream some of the sports. However its free to join.
Fubo tv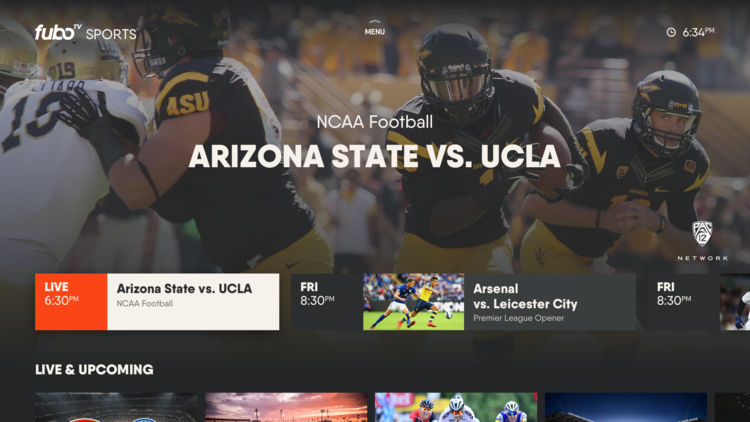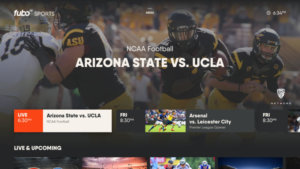 Fubo tv is an awesome place for North American sports streams such as Football, basketball, Ice hockey, and baseball etc. It primarily focuses on international soccer, plus news, network tv series, and movies. There is a free trial available that you can use to watch any major game from the USA, Canada, Puerto Rico, and the Caribbean.
Fubo tv may not be available in all countries. However, you can use one of these proxy sites to unblock it and enjoy live sports streams for free.
Pros:
Fubo tv is a great site in terms of quality and updates.
Mobile friendly. You can also download Fubo tv from Google Play store.
Cons:
Livetv.sx
Livetv.sx is another champion in the sports streaming sites list with over 25 Million users per month. It has an intuitive design with an abundance of sports streams and other options on the home page.
The site is divided into few different sections. On the menu, you will find Broadcasts, Live scores, Video Archive, Betting, and Fan clubs etc. In case if you missed the live match you can check back the video archive for highlights of goals.
The platform is available in 12 different languages. That's an awesome feature. But there many other features that the infographic above clearly explains it.
Pros:
Awesome user interface. Easy to navigate different sections on the site.
Fanclub to enter and share news about your favorite team
You can get full information about upcoming league matches.
Cons:
Reportedly this site is not accessible to some users in some countries like UK, India etc.
stream2watch.cc
Stream2watch is yet another free sports streaming site with plenty of streams to offer. This site offer sources in different languages such as English, Spanish, German, French and Portuguese languages.
by using stream2watch you can watch live sports tv online for absolutely free. There is a chat function that can be used to interact with other sports fans about the feeds and quality of streams etc.
The video player has a nice set of features to select resolution, sound controls, full-screen mode etc.
Pros:
You can stream tv shows, anime series, and leagues
Cons:
You need to Sign up to streams links on this site
Some videos might go offline. you might need to switch the feed.
feed2all
Feed2all is one of the best sites on the list to watch sports streaming online free. I made my mind to include on the list due to its simplicity and the way you will get things quickly. The website will be even better when you browse dark room.
You will get a lot of sports streams for Football, American football, basketball, Boxing, Rugby, Ice Hockey, tennis, Motorsport, Golf, Baseball, Darts, Snooker, Cricket, Olympics and other.
The only downfall is the downtime when thousands of users are eagerly waiting for the match.
Pros:
Fastest loading streams forever
Plenty of fast links to stream sports including boxing UFC and WWE
No registration or sign-up required. Watch without Ads.
Cons:
Occasional offline periods
Watch ESPN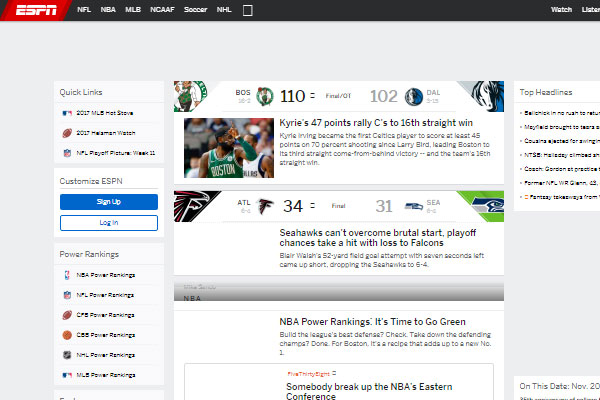 WatchESPN is one my favorite sports streaming site to watch free live sports. You can access Watch ESPN on your Computer, Android, IOS devices and Xbox and watch live sports, replays, and programs on the ESPN network. Apart from watching live Baseball, Golf, Gymnastics, softball and tennis matches, You can also get all the match schedule and replays. But unfortunately, WatchESPN services are limited to the US only, at least as of now.
Pros:
You can easily read sports news, watch live sports, and listen to ESPN Radio and podcasts
Watch live sports without Ads
Mobile friendly
Cons:
Currently restricted to only US-based subscribers
Star Sports
India's biggest streaming site which also offers the streaming of live sports. This comes handy every IPL season for all Indian cricket fans. This also gives an opportunity to watch videos of previous historical matches. Star Sports is an ad-free site which also allows you to stream movies and TV Shows. One of the best place to watch live cricket matches online.
To watch live sports just click sports tab then select the match to stream online. However, there is a 5-minute delay if you are enjoying it for free.
Pros:
High quality and Ad-free live experience
You can even enjoy TV series and Movies on the site
Cons:
You need to subscribe and pay some amount to enjoy its premium content
Stream Sports
Stream Sports is also one of the best sports streaming sites to watch live sports. You can watch Football, Basketball, Tennis, Baseball, hockey, and motorsports. Supported competitions include Premier League, Liga BBVA, FA Cup, Coupe De France, Super League, U-19 European Championship and so many other.
You can either watch Stream Sports live matches on Computer or on Mobile. It has the feature to stream matches in Arabic, English, and Spanish.
Bosscast
This is one of best football streaming sites to watch live football on your Mobile, iPhone, and tablet. BOSSCAST does have an awesome feature where you can chat with fellow streamers with similar taste. Free to watch live sports on BOSSCAST. You can get all the match schedule a/c to the Time Zone.
Streamwhoop
STREAM WOOP is the passionate and best sports streaming site where you can watch Replays, News, Highlights, Live Score and Goals available round the clock. You also have the ability to filter any online sports stream by quality, language, and type of player.
VIP Box
VIP BOX is a free sports streams website that collects many online sources of the internet and provides links to them. it offers football, hockey, basketball, tennis and other sports streams for free. The site is ad-free and gives HD streaming quality.
It supports English, Francais, Deutsch, Italiano, Dutch and Chinese languages. It also provides TV Channels, and TV SHows too along with free sports streams.
Pros:
It covers all major events like Champions trophy
It's easy to use and streams are so reliable
It provides live streams for Boxing, Cycling, motorsports, snooker etc
Cons:
I have not found many links for the live matches
Sports Lemon
SportsLemon is another great website to follow the live action from football, hockey ground. Here you can catch all the live sports events of nearly all matches. Absolutely free sports streaming site without any ads.
Red Stream
watch live sports streaming from rojadirecta streams. You can watch live football, Basketball and Baseball matches.This site is very clean and mobile friendly. One more thing is that you can submit streams on this website. One of the best free sports site worth trying.
From hot Sports
This is yet another best online sports streaming site in the list with simple user interface. The site provides sports streams such as Football, Hockey, Tennis, Basketball, Baseball, Golf, Cycling, Motorsports and other.
The homepage gets updated every few minutes with fresh streams and news about the upcoming match.
When you click on your favorite sport it will take you to the video player where the match can be streamed using multiple links.
Pros:
Simple and practical user interface
Multiple streams links
Cons:
VIP League

VIP League is yet another best sports site online with plenty of sports streams. On the homepage, you can easily search for your favorite sport using the search box. You can stream live Football, AM Football, Basketball, Baseball, Ice hockey, Tennis, Motorsports, Formula 1, and UFC etc.
VIP League also supports various languages such as English, Français, Deutsch, Italiano, and Dutch.
This site has sports streams for some marginal games such as Snooker, Darts, Watersports, and Winter sports. Apart from sports streams, this site also provides some other TV channels and TV Shows.
Pros:
Simple user interface
Streams for some unique sports
Multilingual support
Cons:
ALL Sports Live

All Sports Live is a complete package for sports fans. It provides live sports broadcasts, match results, video replays and review of fights, and they are ready to provide the full sports schedule as well as a sports TV program for the week.
Similar to Batman stream, this site also has a chat box where users can debate on various sports stuff.
All sports live primarily covers Premier League, champion's league, world cup 2018, La Liga, Bundesliga, Series A, League of Europe, KHL, League 1, Sagres League, Eredivisie, and NHL etc.
Pros:
Plenty of features from broadcasts to match results to full sports schedule for the week
You can get world sports news at your fingertips
Multiple language support
Cons:
WizWig.tv
WizWig is the best sports guide for all your online sports which is absolutely free to use. WizWig covers plenty of sport from American football to lesser-known sports such as Badminton, Table tennis. It has multiple streams for every match and you can find basic info on every link like Signal strength, Bitrates etc. so that you can select a more suitable link for your connection.
Pros:
Complete guide to sports channels along with streams info
Huge community to debate sports news
Cons:
Updates are slow and less
Laola1.tv
Laola1 is one of the leading sports streaming providers which deliver live streams and videos to its users around the globe. Laola1 TV provides all of its content in HD quality and supports all the devices.
You can watch live video streams of variety of sports events, such as UEFA Europe League, UEFA Champions League, The Spanish Football Primera Division, Austrian Bundesliga etc
You can build your own page and add your preferred leagues and teams to your feed. What's Hot section on the site covers the latest news and trends from the world of sports.
Pros:
Plenty of live sports channels to stream
Covers news, live streams, highlights
You can create personal playlist when you sign up
Supports German and English languages
Cons:
It will be good if we have a social community where active discussions will take place
Not mobile friendly
Updates are slow
Cricfree.sc
Cricfree.sc, they call it as a home of sports stream. Like said, this website is one of the few websites which provides streaming of all major sports. The homepage looks simple and user-friendly. You will find the match schedule for present hour, for the next and week. You can simply select a game and see whether it can be streamed or not.
There is schedule time zone which you can change according to your region and see what are the available matches are there.
There is also a chat box where you can discuss sports with other fans on the site.
Most of the Ads are indicated and users are informed if certain link is a sponsored. One best feature is that all the NFL streams are Ad-free.
Pros:
Easy to see whether a match is live or not
It will provide all the stream info like source, bitrates etc.
The team has designed the site with each sport in mind – especially baseball, Golf, and Darts.
Every major international sports channel is available on the site
Cons:
More social media activity will be a plus
Not every page is same on the site design wise
GoATDee.Net
The site looks pretty empty at first sight. But this is one of the best places to watch online sports live. It has 10-15 streams ready for every upcoming match.
The Homepage looks simple and to the point. GoATDee.Net is one of the industry trusted sites to stream live sports online. Majority of the traffic to this website comes from Manchester United matches. You should definitely give it a try as it is completely free.
Pros:
Well known and reliable platform among experts
Best working links are placed
Cons:
Not a great look and visual appeal
We don't find streams for smaller games and competitions
Stream Hunter
Stream Hunter is a sports streaming index. It crawls the web and brings you the best sports streams that are free to watch.
The Homepage looks pretty simple and contains all the streaming links that are currently live. If you want to watch a specific sport, then click category tab in the header. It will take you that page show if any sports events available to stream.
It allows webmasters to put Stream Hunter widget on their website. Also, you can add sports streams to the website as well.
Pros:
Clean and simple homepage
Powerful search box which can be used to find your favorite sports quickly and efficiently
All the streams are legal and free to watch
Cons:
Lot of pop up ads is the only disadvantage
Live Soccer TV
This is one of the best sites to watch live soccer online. You can check match schedule, competitions, Teams, channels, providers and News etc.
It provides streams for MLS, MLS Cup, World Cup, Club WC, Liga Mx, Copa Mx, Champions league, Series A and a lot more leagues in advance and provides replay too.
The site supports various languages including Espanol, Francais, Portuguese, Dutch, Italian, Nederlands, Turkce etc.
They even have an app for Android and iOS users. The social community makes it the most engaging sports site on the list.
Pros:
Ad-free sports streaming site
It provides list of soccer-friendly Pubs in the US
It has plethora of channels, TV providers, and sports streams
Powerful search box to find streams by league, team, and channel
Cons:
More sports should be added
livesport24.net
Livesport24 is a free website for live sports streaming and latest sports videos and highlights. You will get a complete list of live sport streaming as this site scans the web and collects all the sports streams in one place. This site is great to watch numerous sports events, including football games of the UEFA, English Premier League, or major events in other sports types, such as Ice Hockey, NHL, and Basketball with NBA.
The p2p technology helps you to watch medium to high-quality sports streams absolutely free.
You can also watch daily updated videos and highlights from recent matches of the major leagues and cups.
Pros:
Complete list of sports streams on the internet
Recommended for the US, and UK sports
Clever p2p technology allows streams in various quality
Also provides a live chat box
Cons:
Little popup ads
More links will be better if they can add
Further Reading:
Conclusion
These are some of the best sports streaming sites to watch live sports online. From which you can watch free live stream boxing fights and WWE matches online without paying anything. If you know any streaming site that deserves a place here, please mention it in the comment section below. Stay Tuned for more updates.