Men have been known to cheat since the beginning of time. Not all of them cheat, and those who cheat don't do it all the time. Since it's so random these days, even the good husbands are tempted to do it.
Ladies, you cannot tame a wild man. On the other hand, you can get him doing it using more straightforward ways than hiring a detective. What do you know about spying applications? If you don't know much about them, we will introduce three of them to you.
The spying apps work much better since it's hard for a cheating husband not to use the phone. They will get you all the information you need while your husband thinks everything is all right.
So, is your man acting weird, among other funny clues? Here are three ways to get him cheating.
Part 1: Catch a Cheating Husband with Spyic
To end the stressing thoughts of what your husband is doing, you can setup Spyic on his phone. This is an application that will tell it all without telling anyone apart from you. It has already helped millions of other users in more than 190 countries.
Spyic is known to operate silently. It uses the stealth mode feature to hide while fetching your husband's phone data. Next, it will capture all you need to know about whom he cheating you with, how, where and when.
Here is just a caption of what Spyic can reveal:
All his phone calls and saved contacts
Messages and iMessages
Social media activities from FB to Whatsapp and Tinder
Real-time location and previously visited places
Stored photos and videos
Everything typed on the phone using the keylogger feature. You can also use it to fetch his usernames and passwords
For more on these features, check out Spyic's main website and demo page too. It works on both Android and iOS without rooting or jailbreaking. Therefore, you can spy on both his Android and Apple devices using one app.
If he has an Android, Spyic requires you to install it once on his phone. After that, the results will be available in your online account. You will never need the phone to view his cheating ways.
If he uses an iPhone or iPad, then you don't need to download or install anything. Spyic will use his iCloud ID to get all his phone's data. If you already have it, you can set it up and start spying on him online without touching his device.
After acquiring Spyic, the results are shown to you online. Your account will have a dashboard that will have all the features we have talked about and more. It's fully compatible with all browsers. So, you can use any internet-enabled device to log in.
Your account and the information you get will always remain secure. Spyic will never reveal it to anyone, including the support team. It does not store anything in the cloud. It only uses it to sync and relay the information via the dashboard.
Many clues that can tell you something is wrong in your marriage. Before you install Spyic to investigate, check out 21 signs your husband is cheating blog. See if there is anything familiar with your situation.
After that, read the steps you need to catch your husband cheating using Spyic.
How to Use Spyic to Get Him Cheating
Step 1: For Android, you need to access the phone to install Spyic. It requires OS version 4.0 and above. In iOS, get his iCloud login details. The iPhone/iPad should have iOS version 7.0 or later.
Step 2: Once you verify step 1, go to the Spyic website and register an account. Next, choose your husband's phone OS to continue to available plans.
Step 3: Select the best plan for you and go ahead to make the payment. You will immediately receive a confirmation email with the login details, receipt, and the setup guidelines. In Android, you will also get a download link.
Step 4: For Android, use the sent link to install Spyic on his phone. Make sure you activate stealth mode by selecting the 'Hide Application' option. After that, finish up the installation and login to your account on another phone or computer.
Step 5: If he has an iPhone/iPad, after the confirmation email, login to your account. Verify his iCloud credentials and then select the device he is using in the next step.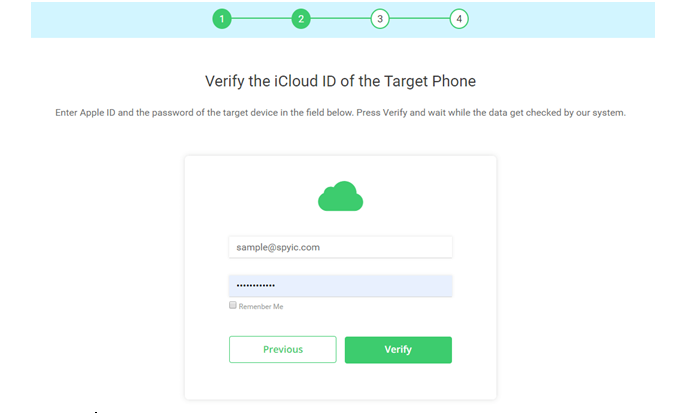 Step 6: After logging into your account in both Android and iOS, you will get the dashboard after synchronization. It will have all the features you need on the left. The right part will have the phone's summary.
Click on each of the elements on the left menu to see what your husband is doing.
Part 2: Catch a Cheating Husband with Cocospy
Another application that will catch all his phone details is the Cocospy solution. You can use it on both Android and iOS devices without any rooting or jailbreaking.
Cocospy has also been globally used, and it has always shown tremendous results. It will capture your husband's calls, messages, location, social media, etc. it gets all these in stealth mode which means your husband will never know when you are spying on him.
In Android, Cocospy needs a one-time installation on the targeted phone. Once you install, you will not need the phone anymore. The results will be available online.
In iOS, you can set up his iCloud login details and start monitoring his iDevice without installing anything. The results, regardless of the phone he is using, are shown to you online.
Cocospy shows you the dashboard via your account, which means you can log in anywhere at any time. It works with all browsers too.
For more information about Cocospy, check out the main website. You will see what and how to use it to learn about your husband's affairs.
Part 3: Using the GPS Tracker
If you don't have a way to install a spying app on your husband's phone, you can use the GPS tracker. Well, he might put it off, but once you turn it on, it will always tell you his location. Since he is not on the phone all the time, you can turn it on when he is not around it.
For Android, you can use the Google Timeline specification. It's on Google Maps application or the online version if he has the Google account logged in.
If he is using an iPhone, then you can visit the significant locations. Just go to Settings>Privacy>Location Services. Locate System Services and the go to Significant Locations.
The GPS will tell everywhere he goes. Once he is away, you can call him to verify if he is cheating on his location or not.
Conclusion
It may not be easy to see the things you may uncover, but it will be worth it once you get him. As we recommend the above solutions, and Spyic above them all, you need to note something.
You can only use the information above to confront your husband. You can, therefore, not present it in a court of law or any other legal dispute. On the other hand, for those who only need to know the truth, these solutions will not disappoint you.