Internet
Comparium – A Simple Cross-Browser website testing tool
It's a largely held view that the most innovative marketing tool for any company, individuals and website owners, is a well-crafted website, which is a very valuable channel to reach out across the entire global, not just in terms of the content but even more so, in the design and presentation of the website (generally known as the 'look and feel').
Thus, introducing 'Comparium', a unique web-based tool that allows for the simultaneous testing of the compatibility of a particular website and their specific performance on several well-known Operating Systems (OS) such as Windows, Mac OS, Linux and across a range of Browsers, such as Windows Internet Explorer 11.0, 8.0, Google Chrome 75.0, 74.0, 73.0, Mozilla Firefox 68.0, 67.0, and Safari 11.0 and their diverse or respective versions, notably old and new.
Besides that, you can also test your web apps performance on the Selenium tool, it's a very efficient tool for automatic website testing.
What is COMPARIUM?
The practical application of Comparium is analytical. Well, why is this even important to begin with?. The answer lies in the fact that the fundamental objective of a website is to deliver an effective public and business relations campaign that presents a well-organized, informative, and market-driven content for the owner and the global audience or target customers.
So it's absolutely empirical that such website is compatible with the available range of OS and Browser types and versions because 'Customer Experience' it a very vital component of customer relations, and could very well come down to the ease of access and availability of the website visited. In such a case, whether the particular Browser on the device works well or not with the OS running the device, such as to give an optimized user experience when the website is visited, or if on the contrary, another Browser or perhaps a different version either older or newer could simply do the trick for the site visitor to make sure they have the best experience and access to functionalities on the website, as well as ensuring a uniform visual appeal and appropriate layout.
Features: Comparium packs a lot of uniqueness and key features, such as;
Support for several Operating Systems(OS).
It has support for different Browser types.
Support for diverse Browser versions.
Visual presentation of Screenshots as website test Output.
Ease of comparison of website performance across multiple platforms.
Convenient delivery of results online, as well as via email / offline.
How does it work?
Comparium deploys a tool that carries out a detailed analysis of the target website, and it does this via a systemic array of steps that are to be followed;
the user initiates the process by first accessing or visiting the Comparium website and this can be done through www.comparium.app
then start off by having the user inputting or feeding the online tool with relevant information about the target, by simply typing in the URL of the website.
selection of the 'Operating System' as is necessary or appropriate, single or multiple OS at once.
selection from the drop-down 'Browser' list allows for multiple Browsers to be ticked for a broad comparison across the lot.
Once the 'Test' button is hit, the system compares the target website and produces a result.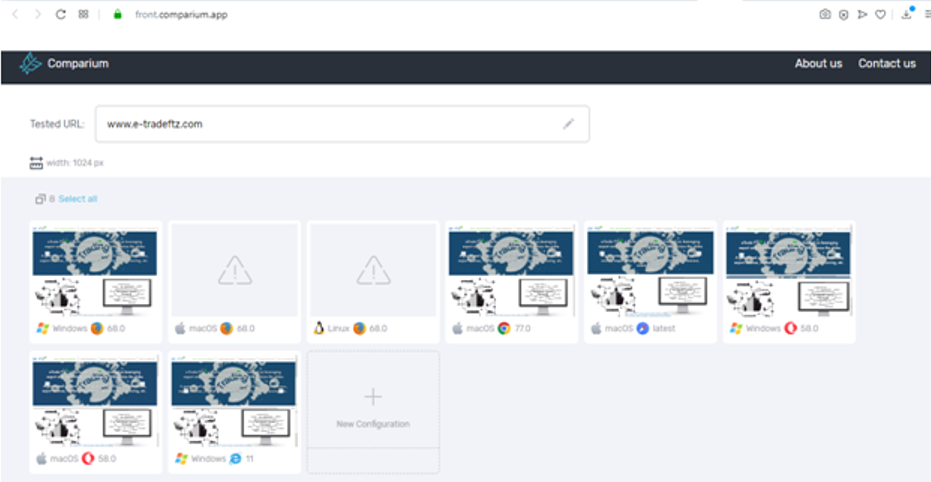 The above screenshot is a depiction of a test run that was carried out on the 'Tested URL' contained in the subject line and below it is the result that was generated by Comparium, across the diverse OS and Browser types. The site is compatible across platforms, except for Mac OS Mozilla and Linux Mozilla.
Conclusion
Comparium is a practical and useful tool to determine website compatibility, for users. It saves a lot of time in optimizing the website for different devices and platforms. If you want to give it a try I definitely recommend trying comprium for various website optimizations.
I hope it was helpful. Now, Let me know what do you think?
Or Did I miss anything? Let me know your feedback in the comment section below.