There are several resources that can enrich your content and present your users with a good user experience on your page. One of them is the infographic. In addition to containing important information for your audience, an infographic is very useful to guide the reading in a more pleasant and intuitive way.
But is it that only by being a designer, or having one, can you create infographics for your content? Of course not!
Although the best alternative is to hire a professional designer, it is also possible to make an infographic without spending much using tools available on the Internet.
Do you want to know how? Continue reading this article!
What is DesignCap?
DesignCap is an online tool that allows you to create infographics for free. This tool offers a large number of predefined templates that can be easily customized by adding shape, icon, photo, chart, text (size, font, color, alignment, etc.), module, etc. In addition, it allows people to create infographics without having to learn to use professional design software or design techniques.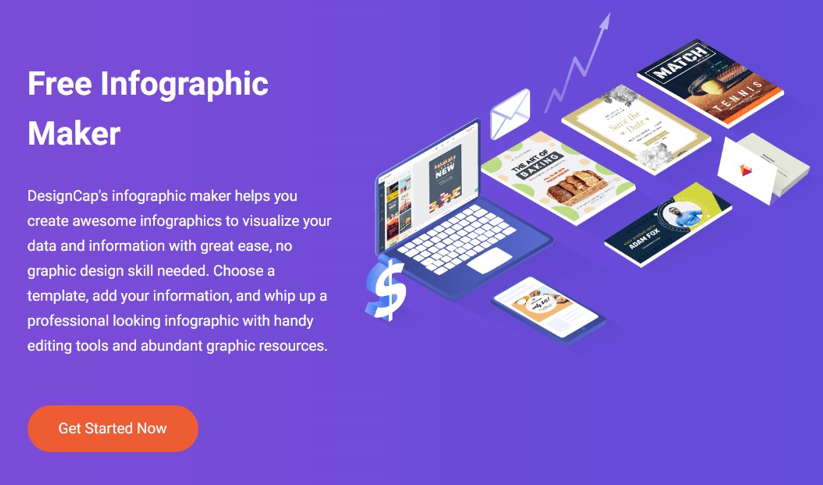 How to register an account?
There are two ways to register an account in DesignCap. The first is filling out a simple form that requests general information about the user. The second one is using a pre-existing user account of Facebook or Google. Both options are displayed by clicking the Sign-Up – Free button or the Login button.
How to make infographics using DesignCap?
Pick an infographic template
To start using DesignCap, just select a template from its big database. Besides infographic templates, DesignCap offers many templates for other topics like presentation, report, card, YouTube channel art, Facebook cover, poster, flyer, etc. Here go the Infographic category to find a template suitable for your needs. In fact, you can also start with a blank template if you already have some ideas in mind.
Add personal touches
After choosing the template, you are able to add shapes or icons into the design. This application offers millions of icons organized by categories, searching one with a keyword and changing its size, color or position, etc.
For the basic option, add your photo and customize it. Here are two ways to add photos to DesignCap. Upload photos from computers to cloud or search a photo like icons from its millions of stock photos online. Then, apply effects, adjust exposure, brightness, contrast, etc.
Add a chart into the design. This is very useful to show some complicated data in a simple and clear way. You are allowed to import data from files of XLS, XLSX, and CSV and then set their font, color, size like text which I'll talk in the following.
Like many other infographic makers online, DesignCap provides a wide selection of preset text styles. You can apply those already made styles directly to your words. It's much time-saving. If you want to set it yourself, it's also OK. Select the text object and change its font, color, size, style, alignment, spacing, etc. manually.
In addition, the Module option is what I like most because it helps me quickly organized my content in a beautiful and tidy way. Here you can organize text with images, icons, options, steps, timelines, diagrams, comparisons, and statistics easily.
The last option to customize your design is Background. DesignCap offers three ways to change the background, color, preset pattern, and custom image. Here I'd love to say more about the set background with a custom image since there is no obvious button to do that. As I talked before in this article. You can upload your photos to the canvas. After that, select the photo and resize it to the same size as the canvas and change its opacity to which you like. Then adjust its layer and put it to the bottom. It's fine.
Save and share
Once all the changes have been completed, select the size and format and then click the Download button to download your design to your computer. If you want to make future editing, save it directly to your account with the Save button. You can also share the infographic with others via email and social. Simply select the Share option at the right header of the page and choose the social media platform or enter the corresponding email address. Besides, you can just share your design on any website with the URL produced by DesignCap. Print in the app option is also available in DesignCap.
From this video, you can know the whole process is detailed steps: https://youtu.be/ue3ej-dupnk.
Pricing
DesignCap is available in the free and paid version. There are many free resources and features while it also offers Monthly and Annual paid subscriptions. The cost is from $4.99 to $71.88. From this form, you can know the details.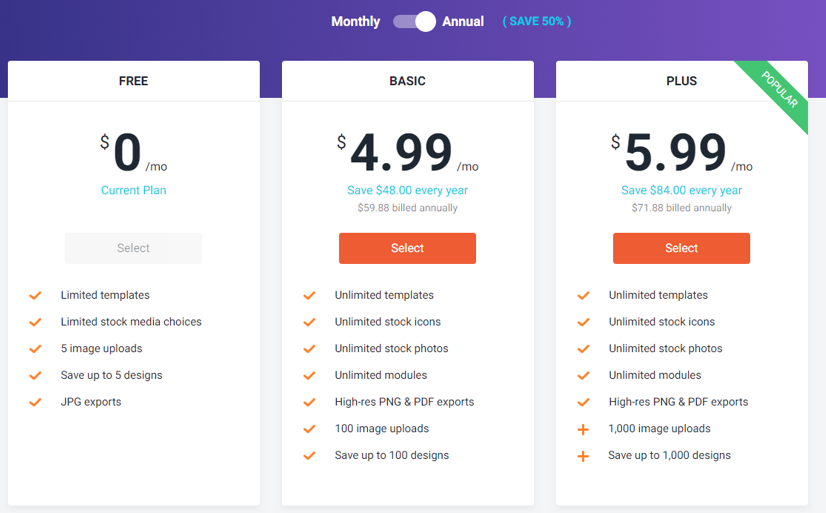 Conclusion
DesignCap is very simple and intuitive. It's not necessary to have any knowledge of Photoshop or other design programs such as InDesign. If you are one of the beginners in design and want to create infographics like a professional designer, go ahead to try it out: https://www.designcap.com/infographic/.