Android is an awesome OS just like windows we can do almost anything on android mobile. Like watching movies to playing some of the best games on the platform.
With a lot of scopes, the developers are so keen and interested to develop some beautiful applications for Android.
For many games, and apps there is no alternative for pcs and laptops. However, it doesn't mean you can't use those apps on your pc. with the help of Droid4X, you can install and run apps on your pcs as well.
what is Droid4X Emulator?
Droid4X is a popular and free android emulator for Windows PC which lets you run your favorite Android games and apps directly on your PC. It lets you get access to popular games like Subway Surfers, Clash of Clans and others along with other Android apps.
Droid4X is a reliable and robust android emulator and can run on basic system requirements which makes it ahead of its competitors. Droid4X also lets you record emulator screen which will help you to record android screen while using it. You can configure your gamepad or keyboard with Droid4X to play your favorite games.
Droid4X Features
You can enjoy unlimited android apps and games on the PC.
Droid4X can also work like charm if you have a touchscreen computer.
To Play any game, you can also configure it with gamepad or keyboard.
Easily record video files of anything happening on the emulator screen or take a screenshot.
Play your favorite games like Clash of Clans or Subway Surfers on PC.
Graphics are exceptional (high-end games as well as low end).
Droid4x is a free to use emulator to let you get android games and apps on windows PC.
Pros
Flip easily between Windows an Android OS with ease and no performance degradation.
Drag and drop to install or use the apps store or run .apk apps directly to install.
Use your smartphone to remotely control your Droid4X games (or customize your keyboard)!
Very responsive touchscreen for great gameplay
Amazing graphics
Cons
Win 10 sleep mode issues
Windows Only
Gyro sensing not working
The default home screen is not customizable
No widget support
[/su_list][/su_box][/su_column][/su_row]
Droid4x system requirements
Droid4X Emulator runs on minimum system requirements. However, I suggest you have these requirements below.
Suggested Requirements
4GB Ram for the best experience
Dedicated Graphics Card (At least 1GB)
64Bit System
Minimum Requirements
A Dual Core CPU supporting virtualization technology
32bit/64bit System
1GB Ram
Graphics Chipset/Graphics Card supporting at least Open GL 2.0
The current version of Droid4x Android Emulator is 0.9.0. It emulates Android 4.2.2 (Kit Kat), one of the most used versions of Android that most people are familiar with.
How to Install and Use Droid4X
Unlike the Android OS which weighs around 1.5GB to 3GB, Droid4X doesn't take more than 10MB size. You can download it for free from its official website. Once download the file double-click on it to install the software. Droid4X will ask for the location to install by default it set to  "C://Program Files"  but you can change it to your desired location in your pc to install Droid4X.
Now click on install, wait for a while. Droid4X will install and open in front of you within a few minutes. From this window, you can directly visit Google play store and install your favorite apps and games. But, before that, you need to sign into your Google Play with your existing Google account or create a new account straight away from the pop up provided to you.
Once you have added your Google Account to it, now you ready use full features of Droid4X. On the Home screen, you will see 3 tabs which are:
Recommended – list of Android apps selected by Droid4X for you
Desktop – Your Android emulator's home where you can see and access all the installed Android apps or browse PC files using "File Manager"
App store – Google Play Store to search and install any Android app or Game in Droid4X.
Click on the Appstore Tab and it will open the Play Store inside of your Droid4X Emulator.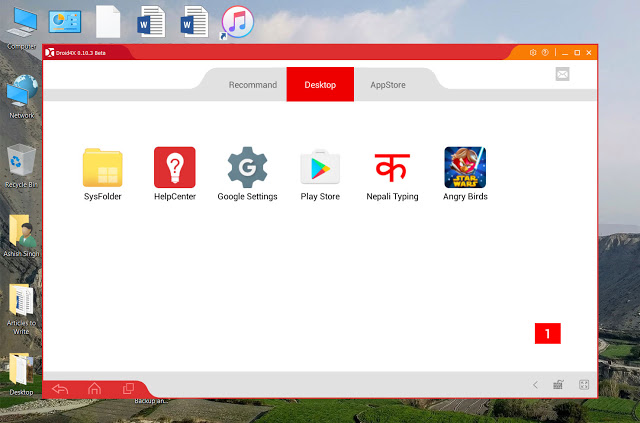 Now just like Android, search for any app on the play store, select it from the results and click on the Android apps in your Droid4X. Once installed, click on the desktop and click on the app to start using it.
More about Droid4X
Verdict
So far, Droid4X is the robust android emulator available for free. It is under 10MB supports all android apps, provides awesome features to explore Android OS. I have tested over 10 apps like Snapchat, Whatsapp and games in full-screen mode. All I can say it is an awesome experience for me using Droid4X. I Hope it was helpful.
Now Over to you. What do you think? Or Did I miss anything? Please let me know your feedback in the comment section below.