Instagram is becoming the prime marketing and advertising platform for many brands after getting so much popularity among the users. Now Instagram has been the second-largest social media platform when it comes to engagement and conversion. So, many brands are looking to make their presence on Instagram for promoting their products and services. However, getting likes and followers is not an overnight task. You need to work for several months to become popular on Instagram.
For many people, this can be time consuming and boring task to get free Instagram followers and likes. To solve this issue, many brands have come up with their own services to grow Instagram followers and likes quickly. But, you should be aware that many such services lead your Instagram account to suspension. That's why today I am presenting you GetInsta, an awesome tool to grow Instagram followers likes quickly and safely.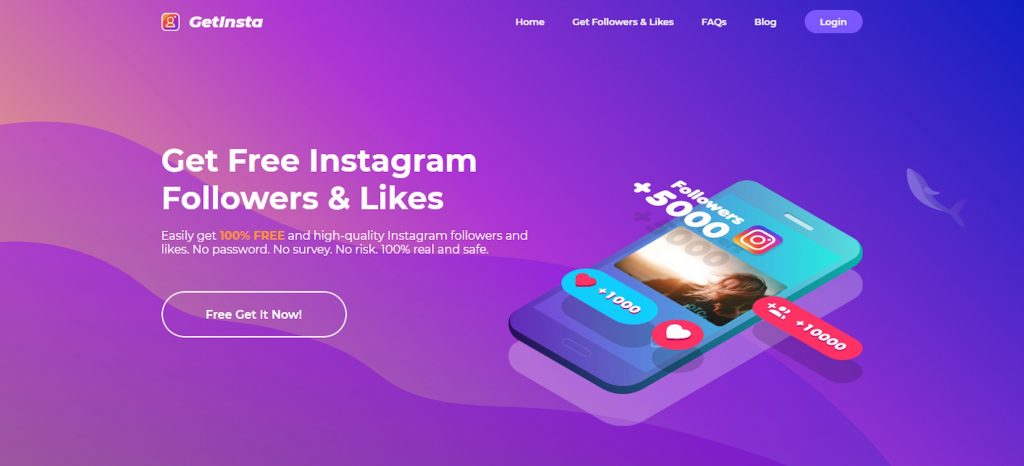 What is GetInsta?
GetInsta is a free application that aims to get free Instagram likes, followers easily, quickly and organically. It provides a 100% safe algorithm to capture real Instagram followers at one place to follow and like each other. By using GetInsta, you don't need to spend money on getting Instagram followers and likes. You just spend coins that you have earned by following other users on Instagram. Awesome is not it?
As you can see, by using GetInsta you can earn coins when you follow and like somebody on Instagram. You can spend the same coins to get Instagram followers/likes to your account whenever you want. There will be no software or bots used to boost the Instagram account here. Being a free promotion app, anyone with a real Instagram account can use GetInsta to grow their Instagram account slow and steadily without banning from Instagram.
How to get free followers and likes with GetInsta
GetInsta is available is on both Web and Mobile versions. First of all, you need to Sign up for GetInsta to get started. Whenever you want to boost your Instagram account just log in to the web or Mobile App and start following and liking others to get coins.
You can get coins by completing tasks like Follow and Like. Whenever you like an Instagram post you will get for example 20 coins, and when you follow somebody, you will also get some coins. This will add up to a handsome amount. Then you can start promoting your account. The best thing is that you can ass multiple accounts to increase their followers and likes. Follow the steps below to get followers and likes.
Steps to get  free followers and likes with GetInsta
Step 1: Download and Install GetInsta on your Android phone
Step 2: Create your account with GetInsta and log into your account. Once you log in for the first time, you will get 1000 coins instantly using which you can start getting followers and likes immediately.
Step 3: Later, you can add one or more Instagram accounts to promote.
Step 4: Once you have earnt enough coins by following other accounts, you can use them to publish a followers task or like a task for one of your accounts.
Tip: To get more followers and likes, you need more coins. Follow the steps below to enjoy more coins which yields to more followers and likes.
Login to your GetInsta account. Now tap on the "Get Coins" icon. Here you can see the tasks published by others. You just need to follow or like to get coins into your account. Over time, you will have enough coins to promote your own Instagram account.
Over to you
Now that you understood where to look for when it comes to getting more Instagram followers and likes. GetInsta is an amazing platform to get more likes, followers safely and organically. The best part is you don't need to give your password, do any surveys or anything. It's a 100% free app to download. Moreover, GetInsta is providing 1000 free coins to get started. Then why are you waiting for? Hurry up and Sign up with GetInsta today.