Today we are going to learn How to install one of the best vShare Alternative, HipStore for iOS 9 -9.2 without any jailbreak. So lets get started.
For those of you don't know. What is HiPStore? HiPStore is one of the best alternative to VShare that can be used to download paid and cracked apps on your iPhone,iPad or iPod touch devices. HiPStore is not only strong competitor for vShare it's also best alternative for installous, Kuaiyong, 25PP, Zeusmos on iPhone, iPad and iPod touch. Typically HiPStore can be installed on any jailbroken iOS 7 – 8 – 9 device from the Cydia App Store.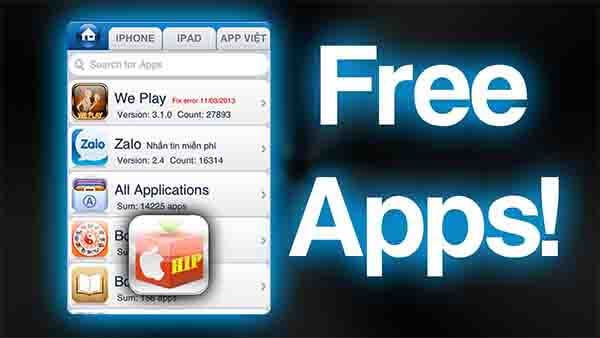 But as there is no jailbreak available for iOS 9, we will try to install HipStore on iOS 9 -9.1 without any jailbreak.
HiPStore for iOS 9 – is it the best vShare Alternative?
HiPStore is one of the best store for downloading paid apps for free especially for Unjailbroken devices. It works perfectly on Unjailbroken devices. I personally think that HipStore is better than vShare. The reason i think so is because it has less bugs as compared to vShare. It does not stops working when the device is restarted like in vShare.It has almost all the apps of what vShare has to offer and with little or no bugs.
Also Read :  Vshare on iOS 9.0 -9.1
Steps to Download HiPStore for iOS 9 (iPhone,iPad,iPod):
Note : This steps works just fine for  iOS 9 or iOS 8.4.1/8.3/9.0.2/9.0.1  versions too.
step #1 : Head into safari and open iosemulatorspot.com. Click on Free Apps and scroll down to you see "HiPStore".
step #2 : Tap on the install button, it will give you a pop up asking you whether to install "HiPStore"
step #3 : Click on install and click on home button. Now you can see HiPstore will be installing on your screen
step #4 : wait for a couple of seconds, as it takes some time to install depending on your network connection. In next 5-10 minutes you can see a installed HiPStore on your iOS 9*8.4/8.4/8.3*8.2*9.1/9.2/9.0.1*9.0.2 without jailbreak .
You May Also Read : Bring Moments to Life – with Flipagram 
step #5 : Remember as we are trying to install application from third-party,we would need to manually trust the certificate.
Key step : Once the app is installed Go To Settings -> General->Profiles and Trust "CMN VEIT NAM ONLINE JOIN ST..". Tap on trust again. And open the App.wait a couple of seconds to load the home page.Select the language to English and continue.
And now you can browse through HiPstore and download your favourite apps and games on your iPhone, iPad and iPod devices for free.
HiPStore Unable to Download/Install this Time Error [Fix] :
It happens sometimes when you are trying to download HiPStore for iOS 9 over weak internet connection/3G. You should wait until a strong connection available and you will able to re download.
or Just close all the safari tabs and apps running in the background and try it from the scratch can work for you. I am messing with too many options here.But as they are free, you can try always.
Must Read : Download paid iPhone apps for free & HD Movies and Tv Shows for iOS 9
I hope the guide HiPStore for iOS 9 – 9.1 without jailbreak – vShare Alternative will help you to download HiPStore on iOS 9.If you are facing any problems,report them in the comment section below. and don't forget to share with your friends.
Keep visiting waytohunt.org for more interesting tutorials and tricks.