Hacking into your child or partner's Facebook account can give you crucial clues to their online activity – who they talk to, what their secret interests are – everything! But breaking into someone else's Facebook account isn't easy unless you have the right help.
This help comes in the form of ingenious apps that allow you to crack into your child or partner's FB account without their password. And if you wish to know about such apps, this post is meant for you.
So without wasting any time, check this post to hack Facebook account without password.
Part 1: Hack Facebook Account without Password with Spyier
Among the several Facebook hack apps available online, Spyier is one that actually works while being completely discrete. The app has been reigning the phone monitoring market for close to a decade with dedicated users in 190+ countries.
Spyier comes power-packed with 30+ features using which you can spy on a target iOS or Android device's Facebook activity and a lot more. You don't need to install anything on your own phone, or root or jailbreak the target device.
The strength of this applies in its stealthy working. Once you install Spyier's Android version on a target phone, the app icon can be hidden from the app drawer, and it doesn't consume enough battery or resources to get noticed. Spyier's iOS version doesn't need any installation.
Spyier works remotely through a web-based dashboard to which you can log in using any web-browser. Once the app has been set up, you can use it to view call history, text messages, GPS location, social media activity, and more on the target device without getting caught.
If you're wondering if it is safe to use Spyier, let us assure you that user data safety is number 1 on Spyier's list. The app doesn't store any personal data from the target phone on its servers. Moreover, it comes with an easy-to-understand interface which makes working with it extremely simple even for a non-technical person.
To know more about Spyier's features, take its free live demo. You don't need to sign up or provide credit information.
How Spyier Helps to Hack someone's Facebook Account
Note: To work with Spyier's Android version, the target device should be working on Android 4.0 or later. To work with Spyier's iOS version, the target device should be working on iOS 7.0 or later.
Step 1: Sign up for a free Spyier account.
Step 2: Purchase a subscription plan to register.
Step 3: Select the OS on which the target device runs. Depending upon your selection, the next step will differ.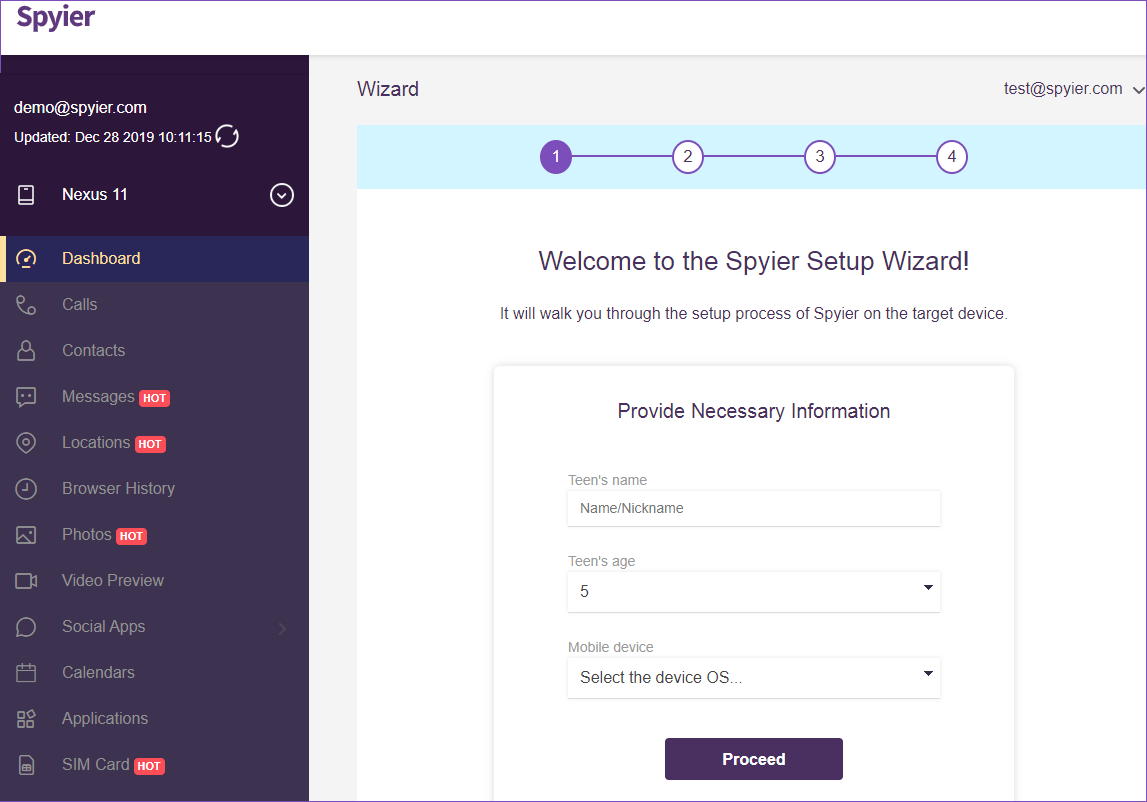 If you selected Android, you will receive email with detailed installation instructions. Use them to set up Spyier.
Step 4: If you selected iOS, provide the iCloud credentials used on the target device. This will allow Spyier to sync target iPhone's data into your app dashboard.
Step 5: After you've completed the above mentioned steps, you will see the finish installation screen. Click on the "Start" button on this screen to initiate remote phone spying.
Step 6: Log in to your Spyier account to see the target phone's data through your dashboard. You will see several options in a sidebar on the left-hand side. Click on "Facebook Spy" to access FB details.
Part 2: Crack into someone's Facebook Account with Spyic
Claimed by Forbes, BBC, and TechAdvisor to be the leading hacker software, Spyic is a great app using which you can break into someone else's Facebook account without having their password. Spyic is currently being used by millions of people across the world and it makes remote phone spying very easy.
Spyic can be used on both iOS and Android platforms without jailbreak or rooting. To use it on iOS devices you don't need any installation; only iCloud credentials of the target device are needed. To use it on Android, installation is needed, but once the application is set up, its icon can be hidden.
In addition to offering Facebook hacking capabilities, Spyic lets users capture keystrokes used to log into social accounts from the target device. With the captured keystrokes, users can then log into various social accounts like WhatsApp, Instagram, Snapchat, and more.
Part 3: Check someone else's Facebook Activity with Cocospy
Ranking high among parental control applications is Cocospy. The remote phone tracking solution gives parents across the world peaceful sleep where they know exactly what their children do on Facebook and other social accounts.
Working without the need for human verification or any useless surveys, Cocospy makes stealthy phone monitoring possible 24×7. With this app in tow, you can virtually be with your kids round the clock.
In addition to hacking into their Facebook accounts through the keylogger feature (which captures keystrokes on the target device), you can track their live location with a 3D street view and do much more without getting caught in the act.
Part 4: Break into Your Child's or Partner's Facebook Account with Minspy
Another leader in the phone spy arena is Minspy. Working stealthily and discretely on both Android and iOS, Minspy offers a wide spectrum of features using which you can not only break into your child's or partner's Facebook account without a password, but do much more.
On the iOS platform, Minspy doesn't need any installation; the iCloud credentials need to be provided. On Android, installation is necessary; the app is lightweight (2M in size) and doesn't consume much battery and resources to get flagged. Once installed, the app can be hidden to give the impression that isn't there.
Just like its counterparts described above, Minspy doesn't need you to root or jailbreak the target device to access full features. All you need to do is configure the app in the required manner and give it the necessary permissions to get it working.
Part 5: Hack a Facebook Account without Password Using Spyine
If you're skeptical about using any of the above-listed apps, you can let all worries go with Spyine. This brilliant and efficient app makes Android and iOS smartphones spying possible and ultra-simple. Working on a simple 3-step approach, Spyine is your best bet if you need discrete Facebook hacking.
Equipped with stellar features like call history tracking, website history tracking, GPS location tracking, social media activity monitoring, media view, etc., Spyine allows people who wish to monitor their spouses and children or employers who wish to monitor their employees the chance to view everything that happens in their targets' lives from a safe distance.
To sum it up
There you have it – our top picks for the best Facebook hack apps in 2020. All these applications are absolutely easy to work with and don't break your pocket. One purchase of their subscription can grant you access to over 30 unique features.
So instead of wondering what your teenage child or suspiciously acting spouse does on Facebook, rope in an application like Spyier to find out the truth for yourself. And you don't have to even think about getting caught while spying!