As we are stepping into a generation that needs us to deal with numerous data every single day, the cloud drives are becoming as important characters in our life.
"Store any file", "See your stuff anywhere", Google has posted these slogans on the Google Drive official website, they are indeed attractive to users. Also, it states that there are only 15 GB of storage for each free account. Many of you might encounter the situation that the storage of cloud drives has been used up since most of the cloud providers limit the storage space, but still, you have to backup tons of the files. In this case, you probably would create several cloud drive accounts to store your files separately, however, how can you manage them without jumping a lot of windows? And how can you manage these accounts simultaneously? Here comes an efficient way to manage multiple Google Drive accounts on the same computer.
Overview of MultCloud
MultCloud supports in total 32 of cloud drives, including OneDrive, OneDrive for Business, Google Drive, G Suite, Dropbox, Dropbox for Business, Google Photos, MEGA, FTP, Baidu, pCloud, Box, Yandex, MediaFire, Flickr, Evernote, WebDAV, HubiC, Amazon S3, OwnCloud, MySQL, Backblaze, SugarSync, Egnyte, Putio, ADrive, HiDrive, WEB.DE, Alfresco, CloudMe, Cubby, MyDrive.
It possesses three main features: Cloud Explorer, Cloud Transfer, and Cloud Sync.
With the Cloud Explorer feature, you can simply manage your online files across cloud drives with upload, download, cut, copy, paste, move, delete, rename, etc.
By using the Cloud Transfer feature, you are allowed to integrate multiple cloud drives into one.
With the Cloud Sync feature, you are able to do the One-way Sync as well as the Two-way Sync and you can even sync one cloud drive with several other cloud drives at a time.
What's more, MultCloud also has the email notification function and the schedule function. Both of them are based on the off-line transfer feature. Yes, the migration will still be running even if you close the page or turn off your computer. As a result of the off-line transfer, you won't have to stay in front of the computer and wait for the task to complete, instead, you can set a scheduled task and the email notification, then make good use of your time.
How to Manage Multiple Google Drive Accounts with MultCloud?
Step 1. Create a MultCloud Account
On the MultCloud homepage, it is easy for you to create an account by clicking the "Sign Up Now" button.
If you would like to experience at first, there is a "Guest Access" for you as well. After you create an experienced account, a username and a password will be generated randomly. As you may forget the username and the password, it would be better to bind your email address to MultCloud for security.
Step 2. Add Google Drive Accounts to MultCloud
After the registration, the first thing that you need to do is to click the "Add Clouds" button on the top to add your Google Drive accounts.
Then click "Add Google Drive Account" in the next window. In case you want to sign up for a new Google Drive account, "Click here to register or change the account" option is here for you.
After that, the Google Drive icon will be shown on the left panel as well as the Cloud Explorer page.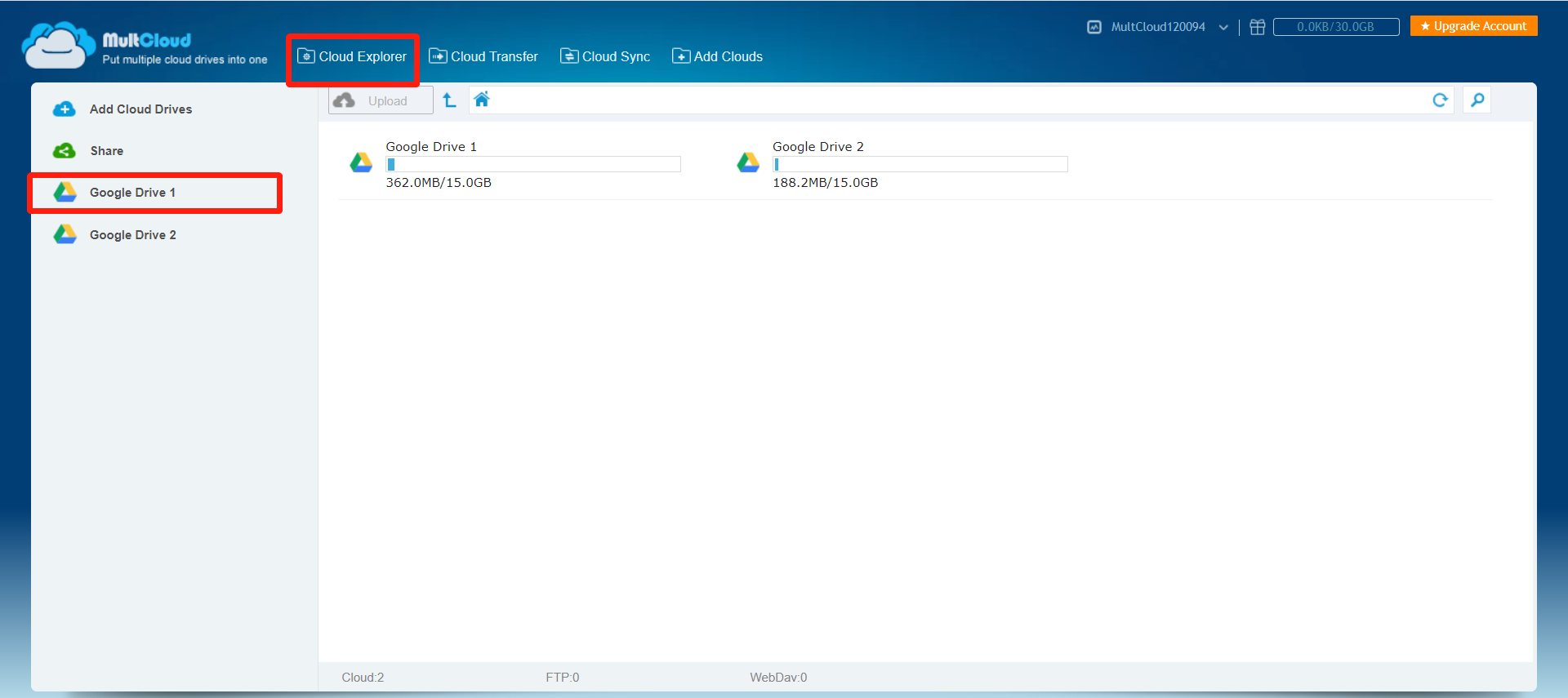 Also, your other Google Drive accounts can be added to MultCloud in the same way mentioned before.
Note:
The only difference in adding other Google Drive accounts is you need to name the cloud drives differently. For instance, you name the first Google Drive account like Google Drive 1, then you should name the second Google Drive account like Google Drive 2.
So far, you have already mastered the skills that allow you to operate numerous Google Drive accounts without opening excessive windows.
With the help of MultCloud, you might want to transfer your files from one Google Drive account to another one. Here, we are going to give you an example of how to transfer your files by using MultCloud.
Migrate Files via the Cloud Explorer Feature
In Cloud Explorer, there are lots of operations that you can do:
Upload/Download
Delete
Rename
Cut
Copy/Copy to
Share
Encryption
Preview
Go to the official site
Trash
Let us suppose that you want to move File 1 from Google Drive 1 to Google Drive 2. What should you do then? The "Copy to" feature under Cloud Explorer can be chosen.
Step 1.
Right-click the File 1 and then the "Copy to" option will be shown, what you need to do is to click it.
Step 2.
The next window will come up with Google Drive 1 and Google Drive 2. Choose Google Drive 2 and click the "Transfer" button.
Note:
You are also given some other features, such as "Move" and "Multi-selection". With the "Move" option, the file will be transferred to Google Drive 2 and will be removed from Google Drive 1. With the "Multi-selection" option, the file can be transferred to multiple cloud drives at the same time.
Step 3.
All done! File 1 has been copied to Google Drive 2 successfully from Google Drive 1.
Final Words
In this article, a rather convenient way to move files between cloud storage has been introduced to you. No need to download your files first and then upload them to cloud drives, instead, you can just add your Google Drive accounts to MultCloud, after that, you can manage them easily on the same page. In addition to migrating your files via the Cloud Explorer feature, you can also manage your files by using the Cloud Transfer feature or the Cloud Sync feature, the whole process will be done in minutes, which is pretty simple and handy. Besides, there are some other functions you may need, such as Upload URL, Encryption, Share and so on, you can find them all on MultCloud by yourself.