Online survey sites have become a popular way for people to earn some extra cash in their free time. These sites offer participants the opportunity to take part in research studies and provide their opinions and feedback in exchange for some money. This is not only a great way to earn some extra bucks, but it can also be a fun way to learn about new products, services, and ideas.
Today we are going to take a look at one of these sites. That is prolific surveys which is an amazing survey site that connects researchers with participants for their studies. It is a popular platform among academics and researchers because it ensures high-quality data by only allowing pre-screened and verified participants to take part in studies.
Are you planning to make an account on the prolific survey, and you want to learn important information about the prolific? In this article, you will get all the information related to prolific. What is it, and how to create an account or log in? And thinking of how to earn money from prolific. So let's continue reading.
What are Prolific Surveys?
Prolific was developed for researchers, which helps them to find them for their online research. They help them to find fast, high-quality, and reliable data collection. Prolific helps connect the researcher with relevant scientific and marketing research participants worldwide.
They give a platform to the researchers to post studies and hire a suitable person. And they can participate in the studies they will earn money by helping them. If you want to know how to reach from prolific, read the next section.
How do you get paid on Prolific Surveys?
It is a very simple process if you also want to know how to earn money from the prolific.
1. Prolific eligibility
You can only sign up for the prolific if you are 18+, and only OECD countries can participate in studies. However, it is in talks to make it available for more countries; if you are not eligible, you should keep checking eligibility.
2. Create an account
If you are eligible for the prolific signup, you can easily sign in using your phone number, email address, or Facebook account. You have to use two of the three methods to create a legit version. They use a screening test to check whether you are trustworthy for the research.
Many studies are posted for some specific age group, gender, and nationality of people. It is a time taking process to fill the prolific profile, but it is worth it.
3. Find and participate in studies
The next part is to find the relevant studies for which you are eligible. You can find available studies under the manage study tab.
You will have a prolific score which will decline after the rejection of your studies or in case of your late submission.
If you find a study in which you want to participate, then just click the select this study button. After clicking, you will get all the information about the study. After that, and you can click the start the study button.
4. Earn money
Once you select the study and submit your research, the researcher will check your submission, and if it is approved, you will be paid for your work.
Prolific survey app
Currently, there is no application for the prolific survey. But you can download extensions for this.
The prolific assistant browser extension is available to know when the new studies are available. On the firefox app store and chrome web store, Prolific assistant 3.10.0 is available. It is always suggested to download the official extension. Do not download any other extension other than the one mentioned above.
Now you know how to earn money from prolific; if you want to create an account on prolific, read the next section.
How to create and login to Prolific Surveys Account
If you want to create a prolific survey account, you will need two of the three things.
Phone number
Email address
Facebook account
After that, you need to verify your account. After your account verification, you can start your study.
If you want to log in to your prolific survey account, you can use your login credential and fill in the login page. You can log in by using your email address and phone number.
Prolific Surveys Reviews by Online Users
Prolific surveys have received numerous positive reviews on Trustpilot from both researchers and participants. Prolific surveys have got total of 1314 Reviews with an average rating of 4.6. Which is extremely good for a survey site. Below you can see the Prolific reviews from real users.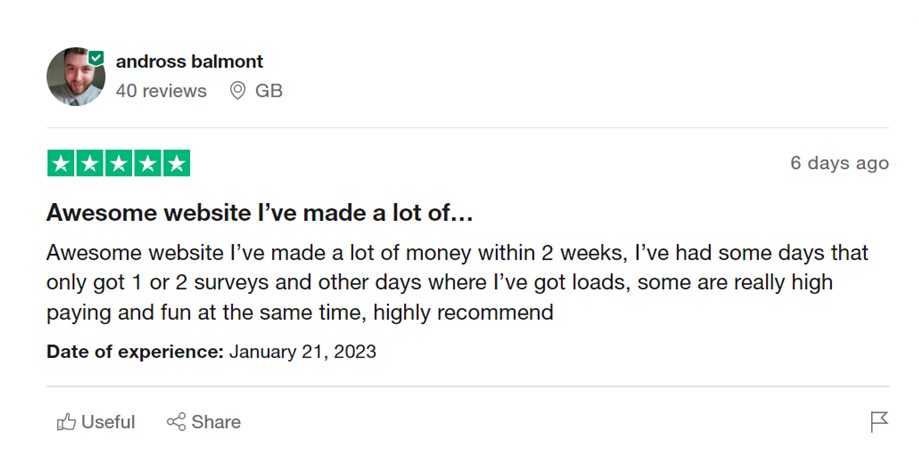 Andross Balmont: Awesome website. I've made a lot of money within 2 weeks, I've had some days that only got 1 or 2 surveys and other days where I've got loads, some are really high paying and fun at the same time, highly recommend
Ellie P.: Prolific is amazing. I'm so so glad I found it, especially during the pandemic when I've been stuck at home. I would give 4 stars, but recently I became unable to take surveys while connected to my wifi for some reason. It works on my phone without wifi, but after messaging their support, it seems that my ISP was removed from their list. Even with that, it's still a fantastic service with great rewards.
Final Words
Prolific is a trustable platform. You will get many options if you want to hire participants for your study. And if you earn through this platform, you can research for the study. You just have to search for a suitable study posted and select the study.
You can start the survey by clicking the start the study button. You will get paid if you submit your research and it gets approved by the researcher. This site pays you a decent amount of money, and you can get a minimum of USD 8 per hour.
You can also use this platform for side income. Overall this platform is good for all who want to earn decent money.
Prolific Survey Review – FAQ:
Is Prolific Survey legit?
Yes, the prolific survey is a legit platform for researchers who want to find the right study participants. The participants will get paid for their study. You can also use this platform for side income.
How much do Prolific surveys pay?
Prolific pay a decent pay for your work. You can get a minimum payment reward per hour reward policy. It means you can get an average of $8 USD per hour.
Is Prolific only for the UK?
Yes, prolific is very popular in the UK. It is one of the best survey sites there. The rate for the survey is more than the other survey sites if you have accepted the study.
How do you log in to the Prolific survey app?
You can log in to the prolific survey app using your email address or phone number. The login steps are very simple and easy, just like other survey sites.
We are sorry that this post was not useful for you!
Let us improve this post!
Tell us how we can improve this post?