Microsoft Outlook is one of the most popular email clients used by Windows users. It provides very easy to access interface to handle emails. You can add Yahoo, Gmail, and many other email accounts to send and receive emails via this desktop application. Unlike other email clients such as Thunderbird, eM client, Opera Mail, etc. Outlook provides some unique features due to being a desktop app and being developed windows community.
It allows you to create/manage tasks, manage appointments/reminders, add signatures, update emails frequently, lets you handle multiple email accounts at one place, send attachments with a reminder feature, many, etc. The desktop application is loved by millions of people. However, the only problem with Outlook is that there is no tool to recover corrupted Microsoft outlook files. Which usually store in .pst or. ost format. Though, there is a basic tool built into outlook called "Inbox Repair tool", it's not user-friendly normal folks.
The good news is that there are many outlook recovery software you can use that to overcome the limitations of built-in tool provided by its developers. One such tool is Recovery Toolbox for Outlook that aims to mend damaged outlook files in the easiest manner.
About Recovery Toolbox
Recovery Toolbox for Outlook is the robust yet simple tool that enables to obtain data from corrupted Outlook files. This tool is ideal for repairing destroyed, damaged, or corrupted Microsoft Outlook data files.
The program manages to perform the repair in minimal time. I have tried with 335MB file size and it barely took me 5 minutes to recover the data from the corrupted file. The simple user interface makes it stand out from other recovery tools for Outlook.
Recovery Toolbox for Outlook: Features and Highlights
Recovery ToolBox for outlook doesn't have a shortage of features. Below you can find the top specs and features.
Recover .PST files Microsoft Outlook 97..XP in ANSI format
Repair PST files of Microsoft Outlook 2007 and higher in UNICODE format
Restore corrupted OST files (Offline Outlook Data File) of Exchange Server + Outlook any versions
Read and repair password-protected *.ost/*.pst files
Read and recover encrypted PST or OST files
OST to PST converter
Repair pst file and ost file with size more than 2Gb
PST to MSG converter (PST2MSG)
PST to EML converter (PST2EML)
Export recovered data into separate PST/EML/MSG/VCF/TXT files
OST to MSG converter (OST2MSG)
OST to EML converter (OST2EML)
Support 32- and 64-bit Microsoft Outlook
The Microsoft Outlook PST recovery tool successfully tested under Windows 98-10, Windows Server 2003-2016
Microsoft Outlook mail recovery software recover e-mails in plain text, HTML and Rich Text formats
Recover attachments
Recover embedded objects, images, e-mails, etc.
Repair PST files under incorrect recovering by Inbox Repair Tool (ScanPST.exe)
Enable saving in several PST file with a user-determinate maximum size
The recovery of deleted emails, contacts, notes, appointments, etc.
Recovering users' mailboxes after an Exchange Server crash
How it Works
The tool works in 2 modes. First, you need to download the software from the official site and follow the guidelines below. Second, you directly repair damaged outlook files using the online service.
In this article, we are going to cover both the methods. So, that you can choose the option according to your requirement.
1. How to Recover Outlook files using Recovery Toolbox
Recovering data using Recovery Toolbox for Outlook involves mainly three stages:
1. Reading damaged .pst or .ost file
2. Analyzing and recovering data from the Corrupted file
3. Saving the obtained data to a new PST file
Follow the step-by-step guide below to repair damaged Outlook files
Step1: First, download Recovery Toolbox for Outlook here
Step2: Install Recovery Toolbox for Outlook and Start the tool
Step3: It will open the file select wizard. Select the corrupted PST or OST file to recover
Step 4: Then it will display a list of options to perform. Choose recovery mode, click Next.
Step 5: The tool will start recovering the data. You can see preview the file contents while it is processing.
Step 6: It will take a few minutes to complete depending upon the file size. Then it will ask you to choose the destination folder to save the recovered file.
Step 7: In the final screen, you can see the summary of the recovery results.
2. Recovery Toolbox for Outlook (Online Mode)
If you don't have time to install the software on your pc or quickly recover Outlook files, there is an online facility i.e, Recovery toolbox online. By following the steps below you can easily repair the corrupted Outlook files.
Step 1: Head into the browser and go to https://outlook.recoverytoolbox.com/online
Step 2: Press the Select file button and browse the Outlook data file with the extension .pst or .ost
Step 3: Enter your Email address this is where the files will be sent
Step 4: Verify the Captcha and Press Continue button
Step 5: The service will take a few minutes to process and repair your files. Once done, a download button will appear
Step 6: Click on the download button to save repaired files to your local computer
The recovered data from the corrupted Outlook file will be saved as a new Microsoft Outlook 2016 file with the PST extension in UNICODE format.
Pricing
The software is sold via a well-known registration service PayPro Global. Recovery Toolbox for Outlook is available in 3 modules, each corresponding to different prices.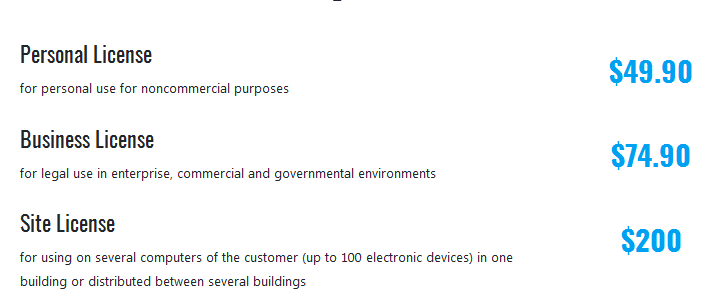 If you want to purchase the personal license it will cost $49.90 which is a onetime fee. For business, site vide license it will cost $74.90 and $200 respectively.
If you want to use the online version, they usually charge a reasonable amount i.e, $10/1Gb of Source file (.PST or .OST).
The Bottom Line
Microsoft Outlook is one of the most popular and best email clients in the world. Having Microsoft Outlook files corrupted or damaged can be really painful. So, it is important that you find robust recovery software to obtain data from these damaged files. By using Recovery Toolbox for Outlook for a while I can strongly say, this tool can be the right choice to make.