Music is the ultimate pleasure we have in our life. It is not wrong if I say that life without music is incomplete. If you have a combination of great music and an awesome sound device it would be awesome. In today's advanced generation, sound gadgets are evolving from time to time. But, Not every day you will find an awesome Bluetooth speaker with a lot of 5-star reviews and under a very affordable price range.
We are talking about new Bose Soundlink Revolve Bluetooth speaker and this is my take on the same from my personal experience. This device gives you a complete 360 degrees sound with amazing bass and quality.
Bose Soundlink Revolve 360° Bluetooth Speaker Review
There are plenty of things to consider before buying a portable Bluetooth speaker like Bose Soundlink. Once you go down this article, you'll guess whether this gadget is for you or not.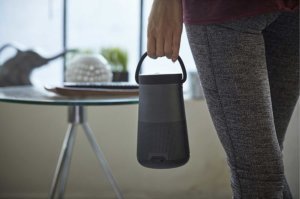 Without wasting much time; let's get into the main crux of the article.
Bose Soundlink offers a deep, loud and immersive sound that is more than enough to fill a large room. The flexible fabric handle makes it easy to grab and carry wherever you go. If you have never bought a Bose device, this is a perfect surprise for you in terms of sound and quality.
Let's discuss the features and technical specifications of the Bose Soundlink 360 Bluetooth speaker. I will cover all the pros and cons along with it. So, let's look at the features below.
360° sound
The best thing about Bose Soundlink is its sound. You will not find any noise. And the sound is evenly spread across 360. After using this one, I don't think I need a bigger speaker than this. It's a Perfect sound. You can even use it for the party celebration.
Dimensions
The built quality is very good which comes in 3.2 x 3.2 x 6 inches with a seamless Aluminum body. It looks very sexy. And I love the soft buttons over top of it.  It weighs around 1.5 pounds.
Durability
This device is built with the intent to last long. And it qualifies the Water resistant (IPX4 Rated) test that it will withstand occasional splash or casual rain.
Battery Life
There is also charging Cradle to charge it. But, you can also charge your Soundlink using the micro USB port present on the device. Battery lasts Up to 12 hours. You can Listen all day, no matter where you are.
Technology
Using Bose Connect App, You can easily connect two speakers for the stereo or party mode playback.  The device is able to connect wirelessly to Bluetooth with voice prompts. take calls easily and access Siri on Google now.
Conclusion
As you saw Bose Soundlink is complete feature packed portable speaker that should the best companion for all casual listeners also the party freaks.
The only con is the disrupting tone when we answer calls using its speaker and a few commands it receives and spells are not up to the mark. Other than this, it's a perfect buy for all music lovers.
If you like the review, please do share with your friends. Thanks.