Wayback machine is a term mostly known by bloggers and website owners who maintain a website. It is described as a web archive of the WWW (World Wide Web) and other information on the internet produced by the Internet Archive, which is a nonprofit organization. Wayback Machine is a website that allows netizens to get screenshots of websites from the past in between the year 1996 to the present.
The Wayback Machine also allows you to access various time lapses produced by a website. For instance, you can look at how waytohunt.org looked when it was created and various times all the way to the present. It works even the original content not available on the source website. So that you can fix broken web pages of your website. Wayback machine has a lot of other features as well such as web pioneers collection where it showcases the websites which were important to the early internet.
Even though some things were not shown, a massive archive of 468 billion web pages on the Internet is still significant data to explore. This helps us to peek into a particular website like its layout, content, development strategy, and other details to assure you the utmost success. However, relying on a single website is not a clever thing. That is why I have created a list of Wayback machine alternatives below. If ever archive.org goes down, you can make use of these internet archive sites. Enjoy!
- Advertisement -
The List of Wayback Machine Alternatives
The Internet archive sites provided below will help you when Wayback machine goes down or doesn't get the data you are looking for. In fact, some of these sites like archive.org (Wayback machine)will provide better snapshots of data in some aspects.
1. Archive.is
Archive.is one of the best alternatives to the Wayback machine to capture snapshots of websites. These snapshots will remain online, even when the original source is disappeared. Saved pages will have no active elements and no scripts, so they keep you safe as they cannot have any popups or malware!
Even though, Archive.is looks a bit outdated with its interface, it still considered as one of the biggest internet archive sites next to Wayback Machine due to its perfect method of archiving web pages.
Official Website:
2. Pagefreezer
Pagefreezer yet another most consistent and relaxed web history checker tool alternative to the Wayback Machine. The website is very secure, reliable, and contains advanced features. The website is basically is a SaaS platform that preserves websites, social media (Wayback machine for Instagram, YouTube), etc.
Its sophisticated archiving capabilities ensure all content is archived and saved in real-time. While all the internet archive sites provide website past information, Pagefreezer provides a real-time experience of the website as if it is still running in the past. This helps firms and organizations to capture online conversations that help to monitor risk. This takes to the next one on the list.
Official website:
3. Domain Tools
Domain Tools is yet another useful web archiving sites similar to Wayback Machine. It simply provides the screenshots of a website technical infromation like Screeenshots, WHOis records, Hosting server details and many more in one simple downloadable pdf file. That is why it made into the list.
Official website:
https://whois.domaintools.com/
4. iTools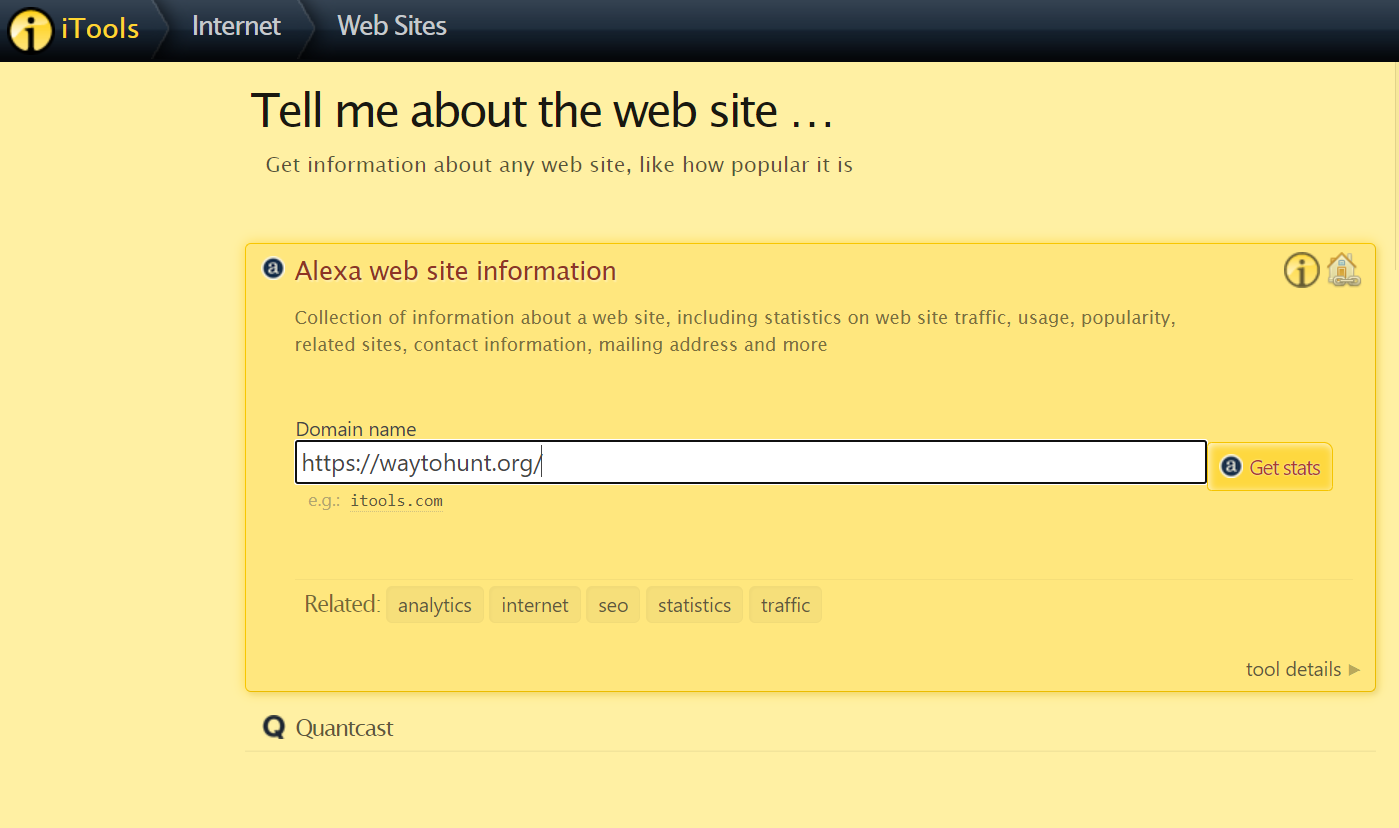 iTools is slightly different platform when compared to the other archive sites here. The site provides complete information of a website like its including statistics on web site traffic, usage, popularity, related sites, contact information, mailing address and more.
iTools uses Alexa API to retrieve the data from the web archive. The best part about iTools is that is shows a list of competitor websites of a particular website.
Official website:
5. Stillio
As the name suggest Stillio automatically captures website screenshots at regular intervals. All you need to do is add a website and set interval and forget it. Everything else will taken care by the website.
It also helps you to manage your brand, track competitors, track SEO rankings, verify ads, monitor website compliance, track trends, and more.
Official website:
6. UK Web Archive
The UK Web Archive (UKWA) collects millions of websites each year, safeguard them for future generations. You can use this Wayback machine alternative to discover old or obsolete versions of UK websites.
UKWA has various collection of archive like British Stand-up comedy archive, French in London, and some news sites and 100 other topics as well. You can search the text of the websites and browse websites curated on different topics and themes.
Official website:
https://www.webarchive.org.uk/ukwa/
7. Alexa
Alexa is a web tool owned by Amazon.com. This is a simple and useful tool used to get a free website analysis to quickly gain insights into a site's strengths, weaknesses, and digital marketing opportunities. Especially, the site overview option enables us to find and grow new traffic opportunities. It is completely beginner-friendly.
Official website:
https://www.alexa.com/siteinfo
8. Memento Time Travel
Memento Time Travel is another useful web archive site that helps you to find and view versions of web pages that existed at some point in time in the past. All you need to do is simply enter a website URL and select the data which you want to time travel and click Find to see the archived data.
Official website:
http://timetravel.mementoweb.org/
9. ViewCached
ViewCahced is another useful web tool to find the cached pages of a website. If ever the web page goes down or offline, you can simply use ViewCahed.com to find the cached version of the website. it is similar to PageFreezer, a limited edition of Wayback Machine alternative.
Official website:
10. Yubnub
YubNub is a very easy-to-use command-line service for the web archive. It doesn't have as many features as Wayback Machine, but its simplicity makes it very handy for internet users especially beginners. YubNub uses commands to get web archive data from different websites. For example, you can simply type "gim Porsche 911" to do a Google Image search of Porche 911 car images. Type "random 49" to return random numbers between 1 and 49, courtesy of random.org. Best of all, you can make a new command by giving YubNub an appropriate URL.
Official website:
To remove your page from google web archive or for Wayback machine removal request place code in the Robots.txt like below User-agent: ia_archive Disallow: / and host it at the top of your website folder.
Conclusion
These are some of the best Wayback machine alternatives we picked and they are totally working and trusted. All these web archive sites will help you in one way or the other to retrieve old website data. What do you think of this list?If you find any good Wayback machine alternatives, please share them in the comment section below.