Software/Tools
Backup, Sync, Clone Your Windows Data with AOMEI Backup Utility
Data backup is pretty essential today's digital world where we store all our important files, documents, and photos in our pc, laptops and other gadgets. If you are a windows user, and the fact that these storage devices are not so reliable, you never know how and when your data could get corrupted.
The smart way to avoid any data related mage is backup the whole data on a regular basis so that you can restore it anytime you need. You can easily create backups with the help of a good data backup and recovery software. AMOEI Backupper Standard 4.6.2 is one of the free backup software by using which you can easily backup, sync and restores files on Windows OS.
AOMEI Backupper Standard 4.6.2
AOMEI Backup software is utility designed for both Windows PC and server users to backup and restores system data. AOMEI Backupper has simple user-friendly which will assist you to backup your whole system, a single partition or disk backup seamlessly. Alongside, it has a lot of other features to help you quickly restore system files when the system crashes or data losses. The file sync feature is very helpful when you need to keep files in different locations synchronized. It has System clone, Disk clone and partition clone which makes OS migration and data transfer simpler than ever.
How to Backup Data with AOMEI Backupper
Install the AOMEI Backupper by following the on screen instructions. Once the Backup software is installed, follow the steps below to backup your system files in various modes.
Step 1: Open the AOMEI Backup application. Click on the Backup Tab. It will display a list of options you can choose to backup your system data
Step 2: Choose any option from the list (System Backup, Disk Backup, partition Backup, or File backup) and click Ok
Step 3: I choose to backup the Partition or Volume for this tutorial purpose. Now select the partitions or volume you want to backup in step 1 from the wizard
Step 4: In step 2, select the destination location to save the backup file
Step 5: You can explore multiple backup options once you click on the settings button present on the bottom left of the screen.
Step 6: Apply suitable options required and click on Start Backup.
It will take a few minutes to backup the files depending up on the file size. The backup folder will be found on the destination folder. You can use the same process back up the whole system or file backup or other backup methods.
Restore Backup Data w/ AOMEI Backupper Utility
When sudden changes occur or when you lost your data for various reasons, you can easily restore your backup files using AOMEI Backupper Restore facility. Follow the instructions below to restore backup files.
Step 1: If you want to restore data to the last backup file, just click on the Restore tab
Step 2: It will display a list of backup files. Choose the appropriate folder/file or disk and click Next.
Step 3: Then select a time point to where you want to restore the files or folder. Now select the list of files from the directory and click Next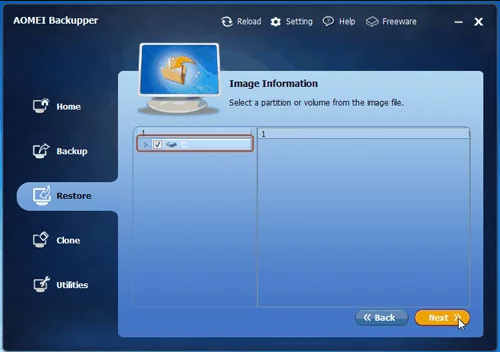 Step 4: Select a location where it is original location or a new one and click Next, It will restore the files to the selected location.
That's it now the files are restored to the original location.
Wrap Up
While the free edition of AOMEI Backupper has all the essential tools necessary to backing up and restoring files and folders, the operating system, custom partitions, or the complete disk. The premium version comes with a lot of other important utilities including encrypted backup, disk cloning etc. It works seamlessly for both windows pc and server users as well.
Next Read:
We are sorry that this post was not useful for you!
Let us improve this post!
Tell us how we can improve this post?